Exposure to arsenic, in the long run, can cause cancer in the skin, lungs, bladder, and kidney. Arsenic and Iron coexist in water. In this case, our arsenic water purifier mechanism consists of two stages, where the iron is removed first and followed by arsenic using adsorption technology. Senco manufactures arsenic removal plants that work on adsorption technology in which the media acts as an adsorbent and adsorbs Arsenic (III) and Arsenic (V). The media also has the advantage of passing the leaching test and does not leach Arsenic.
 Arsenic Water Treatment System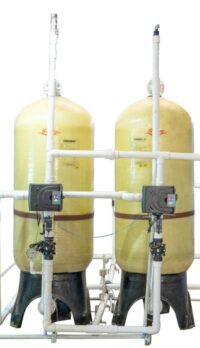 Best Arsenic Removal Plant Manufacturer
Advantages of Arsenic Removal Water Purifier

Tested and Approved from CSIR, GOI

Environment friendly removal plant

Works with wide range of Ph in water

3 step filtration mechanism

Available for capacities of 1000LPH
to 50000 LPH

It can remove arsenic up to
2 PPM from water

Do not require any extra
electricity for working

Backwash water has no
arsenic contamination
Features of Arsenic Removal Plant
We can also provide a domestic arsenic removal plant of capacity 30LpH and 60LpH, which can be fixed in the house kitchen. This will work with a pressure of less than 1 mt head. The habitant can maintain the filter themselves and there will be no O&M cost.