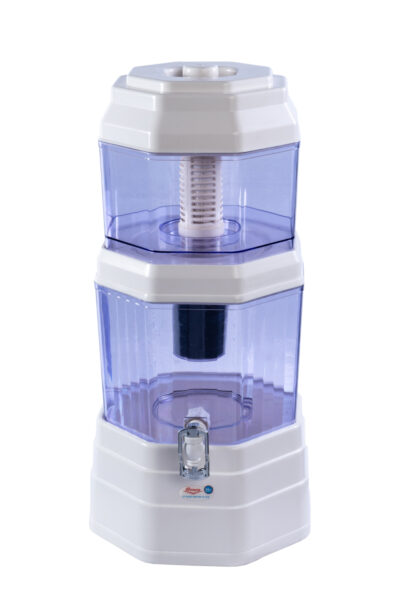 Salient Features of Uf Gravity Water Filter/Purifier
UF technology works with very minimum pressure

Removes suspended particles, precipitated iron, bacteria, cysts and smell of chlorine

25 litres storage capacity

No chemical addition required

Life of filter more than 5 years

High discharge of 16 litres per hour

Crystal clear potable water

Ultra Filtration Technology
Applications of ultrafiltration gravity water filter
Advantages of Gravity Water Filters

As long as your water supply is still working, your uf gravity water purifier will still work. This means that gravity water filters are ideal for homes that have intermittent access to power, or for emergency filtration purposes, as they will always be able to produce clean and drinkable water. You can find UF gravity pot filters that fit your budget.

Our foremost UF gravity pot filters will offer potable water endlessly. They are a perfect model for irregular power access homes and majorly applicable for emergency filtration uses.

One of the main advantages of our uf gravity water purifier is that they do not need much maintenance as they don't have any moving parts, eventually, bare minimum performance is enough.
In Senco's gravity water filters system, we offer a wide range of different sized filters, granting you to buy specific filters for single taps and faucets, or have a gravity based water purifier that services your complete home installation.

In addition, UF gravity water filters can be created with various types of materials, including stainless steel and ceramic, so that you can modify the filter to match the appealing of the place that it is mounted in.